The last time we saw the Baltimore Ravens playing an NFL game, they were walking off the field after a season-ending 23-17 loss to the Los Angeles Chargers in the Wild Card round of the AFC playoffs.
Lamar Jackson rallied the troops with two fourth quarter touchdowns after the worst three-quarter quarter performance in NFL postseason history. Unfortunately, the rally came up short. As it would turn out, Terrell Suggs, Eric Weddle, Za'Darius Smith, Brent Urban, and C.J. Mosley played their last game for the NFL's top-ranked defense.
Offensively, Michael Crabtree paced the Ravens with two catches for 38 yards and a pair of touchdowns. He is currently a free agent. Gone as well are former starting quarterback Joe Flacco and wide receiver John Brown.
The names and faces may change, but the excitement is palpable for the 2019 Ravens as they look to defend their AFC North Championship this coming year. A lot falls on Jackson to see how he improves this upcoming season. Here are some thoughts from yesterday's joint practice session on Jackson:
Jackson has been solid throughout all of camp. The real football gets started Thursday night when the Ravens welcome the Jacksonville Jaguars to M&T Bank Stadium for the 2019 preseason opener. Jackson will not be highlighted this week as it is unknown how much he will play Thursday night. Given the thumb injury to backup quarterback Robert Griffin III, I'd expect the Ravens to play if very safe and give Jackson a series or two at most.
Without further ado, here are three things to watch for on Thursday night.
1) Who steps to the forefront at left guard
This is boring, I know, but on a team with a few holes, this one seems the most glaring. The Ravens shipped incumbent starter Alex Lewis to the New York Jets yesterday after reports surfaced that he was going to be released. Nonetheless, his Ravens career is over after starting 18 games in three seasons.
That leaves a trio of question marks fighting for the left guard role in Jermaine Eluemunor, James Hurst, and fourth-round rookie Ben Powers. Eluemunor has been seeing a good portion of the first team reps so far in camp despite failing his conditioning test. He has three starts in 17 NFL games for the Ravens.
Hurst is a swing tackle and provides average depth at multiple spots along the offensive line. John Harbaugh loves his versatility to play inside and out but Hurst has often struggled over his 42 starts in Baltimore. He does make $3.5 million this season and it wouldn't be the first time a team played a high paid guy over a more deserving one.
Powers is the rookie out Oklahoma that many (myself included) are hoping can wrestle the starting job away Eluemunor and Hurst. When I attended camp, he took a good percentage of the reps with the first team offensive line and didn't appear overmatched.
This job will be won in the preseason. Whichever of the three plays the best should be given the role. Thursday is the start of the real competition.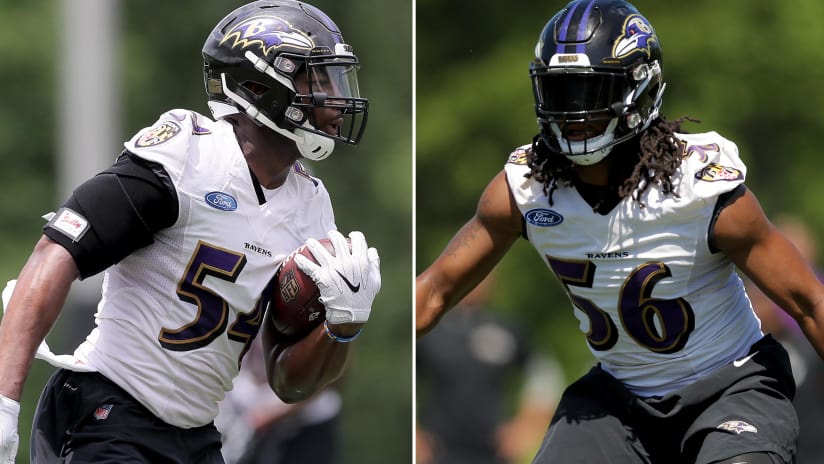 2) Which linebackers flash?
The Ravens will be turning over the middle linebacker group to Patrick "Peanut" Onwuasor this year. Peanut has started 25 games over the last two seasons and will need to step up to fill the void left by the Mosley departure.
2018 undrafted rookie free agent Chris Board appears to be in catbird seat for the other inside role next to Onwuasor. Board had 12 tackles last season in limited action and he has impressed so far in camp.
It would rank as a surprise at this point if second-year linebacker Kenny Young battled his way back into the starting role. Keep an eye on Board's speed this preseason. He is freaky fast.
In addition to inside linebacker, the Ravens pass rushers are another group that remains unsettled. Tim Williams has been coming on strong the past few days in camp and could have the inside track to the starting role. Fellow third-year linebacker Tyus Bowser had a pick six yesterday. The pressure is on these two.
Other players to watch in the group include veteran free agent additions Shane Ray and Pernell McPhee, who have both struggled to make any tangible impact so far. McPhee still has the ability to give the Ravens something in their interior pass rush, but Ray hasn't moved the meter at all.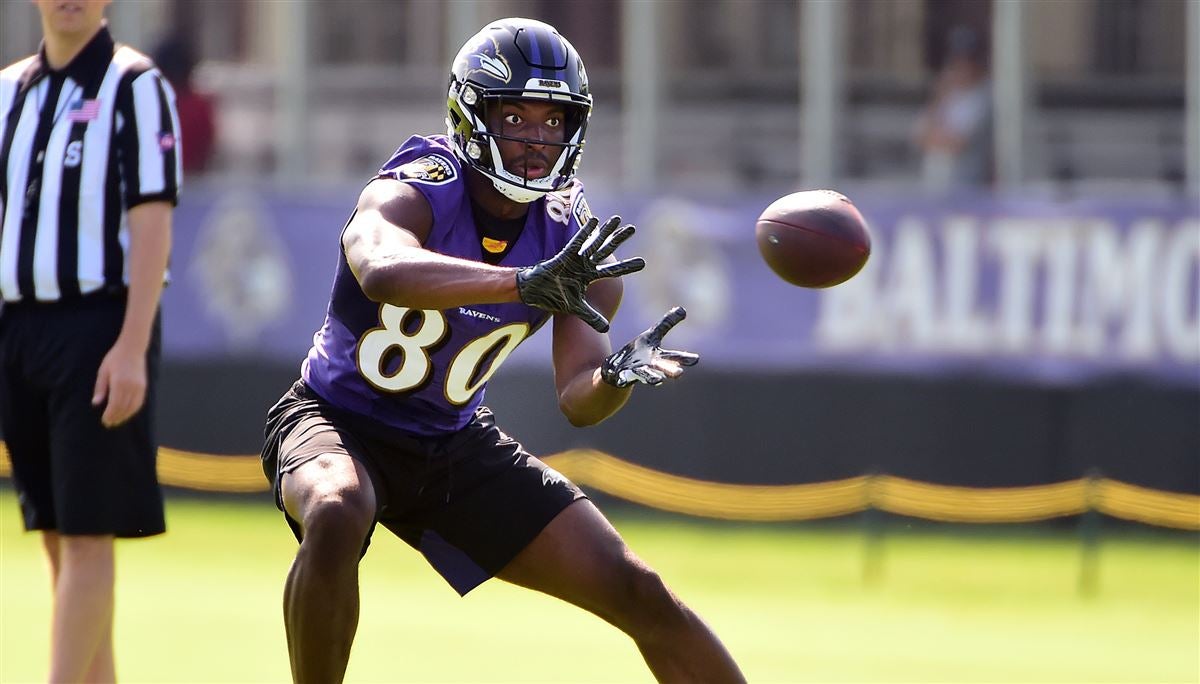 3) Excitement at Wide Receiver
Wide Receiver has long been a position of weakness in Baltimore. From draft busts Travis Taylor, Mark Clayton, and Breshad Perriman, to free agent flops TJ Houshmanzadeh, Jeremy Maclin, and Crabtree, the Ravens have consistently struggled at this position.
Hopefully those days are soon to end as 2019 first-round pick Marquise "Hollywood" Brown and 2019 third-round pick Miles Boykin have entered the receiver room. Boykin has been the star of training camp so far. Brown has yet to participate in 11-on-11 drills as he continues his recovery from a Lisfranc surgery.
Seth Roberts and Chris Moore have had nice days at camp and even 2018 fourth-rounder Jaleel Scott is turning in some nice catches.
If that isn't enough excitement at the wide receiver position, undrafted free agent Antoine Wesley is having a very nice camp so far and could become the latest to continue the Ravens tradition of undrafted rookies making the 53-man roster.
I have been raving about Wesley all summer. He lacks speed, but according to NFL Analyst Bill Zierlein's draft preview of Wesley, his hands are automatic and he has elite ball skills.
Keep an eye on #84 Thursday night.
Broadcast information:
Image Credit: Baltimore Ravens