The Baltimore Ravens will look to move their record to 3-1 and gain an early advantage in the AFC North when the Cleveland Browns visit M&T Bank Stadium this Sunday at 1:00pm.
The Ravens will be hungry to bounce back from Sunday's 33-28 loss to the Kansas City Chiefs at Arrowhead Stadium. Lamar Jackson produced his first rough day of the season, going 22-for-43 for 267 yards and no touchdowns through the air. Jackson did add 46 yards and a touchdown on the ground. Even though he seemed rattled at times, Jackson provided a few highlight reel moments on the ground:
Being in space against Jackson is a nightmare for most defenders. There's only so much you can do when the second-year quarterback takes off running, but sometimes Jackson beats himself by not making accurate throws.
The Ravens weren't much better defensively, giving up 503 yards of total offense to Patrick Mahomes and the high-flying Chiefs offense. Coaching was a sour point as well with John Harbaugh playing aggressive. The Ravens went for a two-point conversion three separate times on Sunday, failing to convert on each occasion. Harbaugh also went for fourth-and-two inside Baltimore territory a few times. He wasn't apologetic:
After unpacking everything that went wrong at Arrowhead, the Ravens turn their attention to a 1-2 Browns team who will be looking to rebound from a 20-13 loss on Sunday Night Football to the defending NFC Champion Los Angeles Rams.
Here's what I am looking for ahead of Sunday's clash. Keep in mind that whoever emerges victorious at M&T Bank Stadium will take over first place in the AFC North – a Ravens win would propel Baltimore to a 3-1 record and drop Cleveland to 1-3. If the Browns win both teams will hold 2-2 records, but a 1-0 record in the division would give Cleveland the edge in that scenario.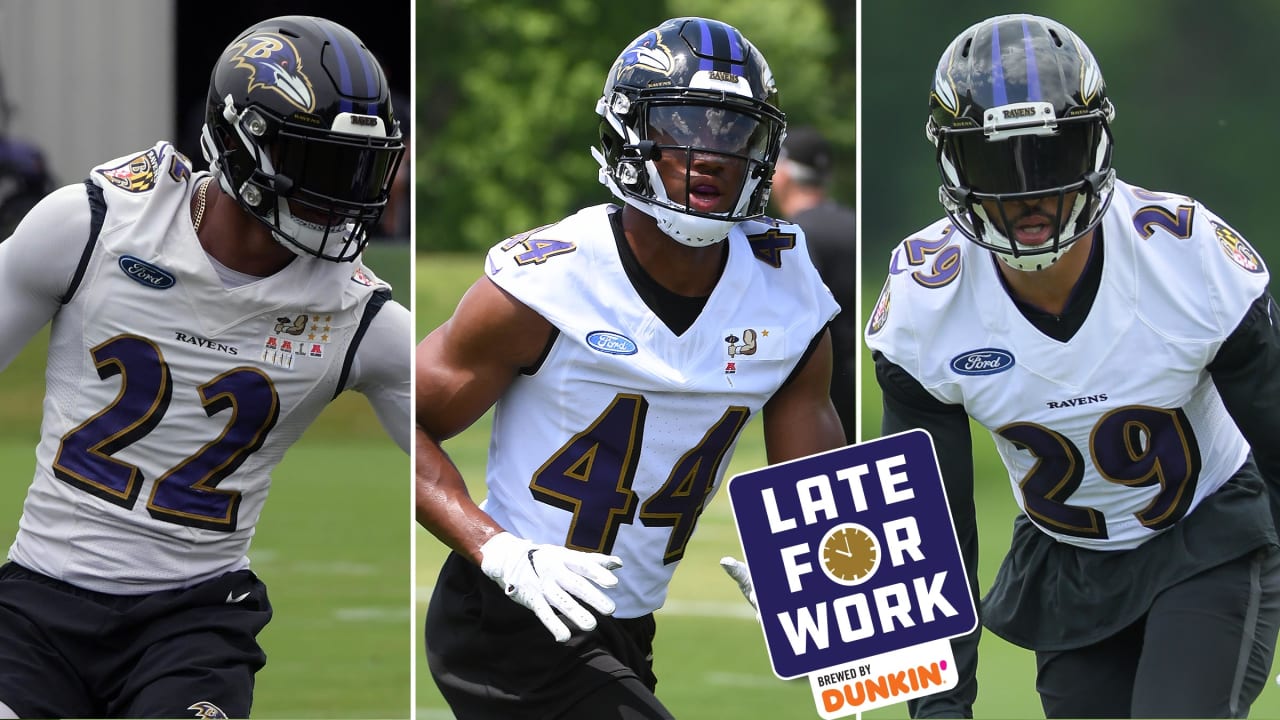 1) Can the Ravens secondary talk things out?
Two weeks ago Kyler Murray and the Arizona Cardinals hung up 349 pass yards on the Ravens in Week Two. Murray had Christian Kirk and Larry Fitzgerald go over 100 yards receiving in that contest.
This past week Mahomes lit the secondary up for 374 yards and three touchdowns. Mecole Hardman and Travis Kelce had 97 and 89 yards respectively. Sunday's performance leaves the Ravens ranked 27th in passing defense, giving up an average of 290.3 yards-per-game. Consider this stat:
Wasn't the secondary supposed to be a strength of the 2019 Ravens and one of the best in the NFL? Tavon Young went down in the pre-season, a huge blow to the slot corner position. Jimmy Smith going down in Week One hasn't helped matters. Marlon Humphrey has looked good at times but appears to be hindered by a nagging injury. Earl Thomas has been quiet so far. Tony Jefferson has had his moments and same for Brandon Carr. Cyrus Jones, Anthony Averett, and Maurice Canady stink.
But have no fear, communication issues have been the rallying cry around the castle:
You should have fear. Getting toasted in back-to-back weeks is never a great sign. It is correctable to an extent and the 18th-ranked Browns passing game coming to town could help.
Browns quarterback Baker Mayfield has been erratic through three weeks, completing just 56% of his passes with three touchdowns and five interceptions. The Browns do boast Odell Beckham Jr and Jarvis Landry in the receiving game which should be one of the NFL's best duos.
They haven't gained traction yet. Let's hope Sunday isn't the beginning of their uptick.
2) Ravens run defense looks to bounce back.
The pass rush ain't great either, but hoping for that unit to figure it out seems futile so they get left off the list this week. The Browns have a weak offense line, so maybe they get off the mat on Sunday.
Stopping the run has long been the staple of Ravens defense. The Ravens gave up 41 rushing yards combined to the Dolphins and Cardinals in weeks 1 and 2. Last week alone, the Chiefs piled up 140 yards on the ground led by Darrel Williams and LeSean McCoy, who combined for 116 yards and a touchdown. Edges weren't set, tackles were missed, and the Chiefs finished the game with over five and a half yards-per-rush
Nick Chubb comes to town this week leading a Browns running game that ranks 25th in NFL, averaging 89 yards-per-game so far. Chubb is averaging four yards-per-carry but has just 58 attempts so far through three weeks. Chubb is coming off of his best game of the season where he racked up 96 yards on 23 carries. However, the Browns have been reluctant to commit to the running game so far.
With the pass defense showing signs of vulnerability and Smith not projected back for another few weeks, it is imperative that the run defense gets back to it's stifling ways on Sunday. Making Mayfield one-dimensional is the way to go on Sunday as he is prone to throwing a few to the other team.
Gotta get back to stopping the run.
3) Who do the Ravens want to be offensively?
Jackson was the toast of the town two weeks into the season. He had combined for 596 yards while completing 72% of his passes with seven touchdowns and no interceptions. He also pitched in 19 carries for 126 yards on the ground. Competition be damned, the MVP chatter was starting in Baltimore for their second-year quarterback sensation.
Against a stiffer test in an improving Kansas City defense, Jackson struggled. 72% of his passing total came in the second half after a rough first half. The Ravens threw 19 times versus nine runs in the first half from Mark Ingram, Gus Edwards, and Justice Hill. Mixing a few Jackson scrambles, the numbers look closer but it felt like the Ravens did way too much passing in the first half.
On the day, the running game finished with 203 yards and four touchdowns with Ingram carrying 16 times for 103 yards and three scores. Ingram is fifth in NFL in rushing yards with 257 but only has 43 carries on the year. That ranks him slightly behind Peyton Barber and Frank Gore. Not to mention that none of the three failed two-point conversions went to a Ravens running back. The failed fourth-and-two in the first half was a passing play too.
I know we want to see Jackson throw the ball around the park to silence the haters and whatnot, but this team needs to keep their identity of a smash-mouth, run-oriented offense.
The Chiefs had no answer for the Ravens running game Sunday and teams will struggle stopping it all year. That will make Jackson and his weapons more dangerous if teams have to account for the running game on a more consistent basis. It's great that Jackson has proven to be a more capable passer. That will come in handy when it is needed.
RUN THE DAMN BALL!
Predictions
Jake McDonnell: Ravens 24, Browns 22
Nolan McGraw: Ravens 26, Browns 21
Isaiah Stumpf: Ravens 24, Browns 21
Ian Schultz: Ravens 26, Browns 24
Cleveland enters Sunday's game the more desperate team. Falling to 1-3 while the Ravens move to 3-1 would put the Paper Champs behind the 8-ball before the calendar hits October. But the Ravens are the better football team and are playing at home. The Browns will be formidable Sunday, but the Ravens will overmatch them in the end.
Broadcast information:
Image Credit: Getty Images