The 8-2 Baltimore Ravens are headed to Los Angeles to take on the 6-4 Los Angeles Rams on Monday Night Football at the LA Memorial Coliseum.
The Ravens will be looking for their seventh consecutive victory after last week's decisive 41-7 route of the Houston Texans. Stop me if you've heard this before, but Lamar Jackson again led the way for Baltimore finishing 17-24 with 222 yards and four touchdown passes. Jackson also pitched in 10 carries for 79 yards including another highlight reel run:
The touchdown passes were to Seth Roberts, Mark Andrews, and a pair to Mark Ingram, who continues to be an incredibly entertaining piece to the puzzle on the field and the hype man for Jackson's MVP campaign:
The Ravens social media team is on fire, this offense is on fire, and a defense that had gotten off to a rough start has really hit their stride the past few weeks.  It's all aboard the hype train for Baltimore right now and it has been an absolute delight to date.
But enough of the hype train and enough of last week. As John Harbaugh has said all week, "We still have a lot of work to do." The Ravens head to Los Angeles for a Monday night matchup with a Rams team that got by the Chicago Bears last week 17-7 in a slugfest on Sunday night football .
Here's what I am watching for ahead of Monday night's matchup.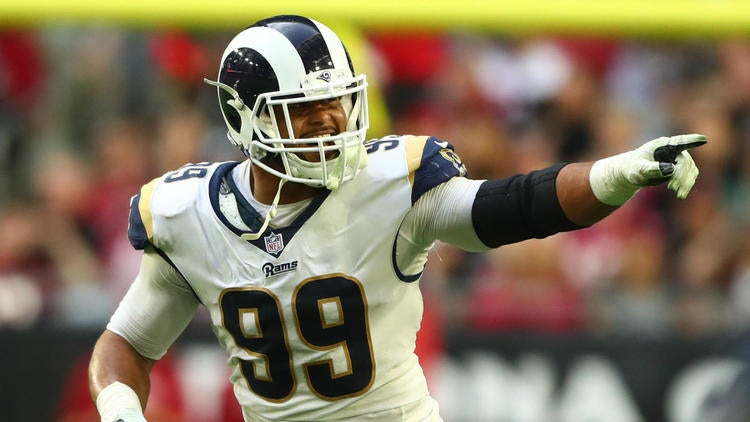 1) Can the Ravens corral Aaron Donald?
For those of you that don't know, Aaron Donald is widely considered the best player in the NFL. And for that accolade to be bestowed upon a defensive player is as rare as the Browns beating the Steelers and Ravens in the same season.
The four time All-Pro and three time AP Defensive Player of the Year award recipient is having a down year by his standards, tallying only eight sacks through ten games this season. He is coming off of an absurd 20.5 sack season last year and is looking for his third consecutive AP Defensive Player of the year award this season. No player has ever received that honor three straight years.
Marshal Yanda knows what his offensive line is up against in Donald:
 "He's got it all," Yanda said. "He has speed, strength, quickness. He's definitely got the whole package. He's the No. 1 defensive player in the NFL for a reason. He definitely commands that respect."
Yanda added:
The Rams currently rank tied for ninth in the NFL with 29 sacks on the season. The Ravens have surrendered just 20 sacks on the season ranking them tied for ninth for fewest sacks allowed.
2) Rams receivers vs Ravens defensive backs
The Rams have an elite WR corps that could challenge the Ravens extremely talented secondary. But will the Rams have all three members of their triple threat group available on Monday night? And if so, how effective will they be against arguably the best secondary in the NFL?
Robert Woods was a surprise scratch late last week and remains away from the team with a personal issue. As of this being written Woods is still not back with the Rams. He has 45 catches for 566 yards on the season but is still looking for his first touchdown of the year.
Brandin Cooks represents one of the leagues most consistent recievers over the last four seasons, averaging over 1100+ yards and seven touchdowns a year. But Cooks is mired in an injury-ridden season right now and has tallied just 27 catches for 402 yards and one touchdown. He is "on track" to play Monday night after missing the last two contests with a nagging concussion.
The star of the Rams receiving group and maybe the entire team outside of Donald is Cooper Kupp, who has 61 catches for 845 yards and five touchdowns so far on the season. Kupp has emerged as one of the best wide receivers in the NFL over the last few years and will present a huge challenge for the Ravens loaded secondary.
However, similarly to last week, the Ravens have a trio of corners that are well equipped to handle this group in Marcus Peters, Marlon Humphrey, and Jimmy Smith. The secondary has really been coming along the last few weeks surrendering an average of 192 yards per game through the air.
They were also instrumental in the Ravens seven sack pass rush breakout last week against a mobile QB in Deshaun Watson.
The winner of this matchup could decide Monday night's affair.
3) Can the offense demolish another good rushing defense?
The Rams currently sit fifth in the NFL surrendering just 89.1 yards per game on the ground this season. The Ravens are first in the NFL in rushing ,averaging and absolutely absurd 203.1 yards per contest.
The Texans sat at third in the NFL in rushing defense heading into last week's contest but have now fallen to 13th after the Ravens racked up 256 rushing yards on Sunday.
But be wary of thinking this Rams rushing defense is all that impressive. Consider the stats below:
5 games against teams ranked 21st or worse against the run: 69.2 rushing yards per game allowed
5 games against teams ranked 17th or better against the run: 109 rushing yards per game allowed.
The Rams haven't seen a rushing offense as impressive as the Ravens unit that is currently averaging over 54 yards per game more than second ranked San Francisco 49ers.
Can the Ravens hit 200 yards against the Rams rushing defense? Maybe not. But they can be penciled in to go over 150 yards against the Rams, which would provide Baltimore enough balance to be successful on offense.
Predictions
Jake McDonnell: Ravens 38 Rams 24
Nolan McGraw:  Ravens 20 Rams 13
Isaiah Stumpf: Ravens 41 Rams 10
Ian Schultz: Rams 25 Ravens 23
I have no confidence in this pick. But here's the logic behind it if you care to know how a moron arrives at a conclusion. The Rams are at home in a night game. Yes their home field advantage is minuscule but it does exist. Being home is a nice perk but the Rams sit at 6-4 in what has become a LOADED NFC playoff picture. The Ravens are 8-2 and comfortable atop the AFC North. A loss here for the Rams could likely end their season but if the Ravens lose, they will remain in second place in the AFC. Desperation matters and it will be the deciding factor in this one. Or it won't and you can all call me a hater. Either way, GO RAVENS!
Broadcast information:
Image Credit: Action Network