The 13-2 Baltimore Ravens welcome the 8-7 Pittsburgh Steelers to town this Sunday at 4:25 from M&T Bank Stadium looking to end their arch rival's playoff hopes.
The Ravens locked up home field advantage throughout the AFC Playoffs with a 31-15 victory over the Cleveland Browns last Sunday. It was another MVP-caliber performance from Lamar Jackson who went 20-for-31 for 238 yards and three touchdown passes. Jackson also pitched in 17 carries for a team-high 103 yards on the ground.
It was an uncharacteristically slow start for the Ravens who trudged their way through a scoreless first quarter and didn't get on the board until the second quarter when Jackson hit Mark Andrews for a 39-yard touchdown pass to give the Ravens a 7-6 lead. After an inexplicable series from the Browns, Jackson got the ball back with 1:02 left at the Baltimore 25 and marched down the field to extend the lead with a second touchdown pass to Andrews:
The Ravens took the opening kickoff of the second half and went 69 yards in 13 plays to extend the lead to 21-6. Mark Ingram put the finishing touches on that drive with a 12-yard touchdown catch, his 15th total touchdown of the year. Ingram left the game with a calf injury that will keep him out of action this week at a minimum.
Ingram won't be the only Raven missing this game. Here's three things to watch for ahead of Sunday's AFC North tilt.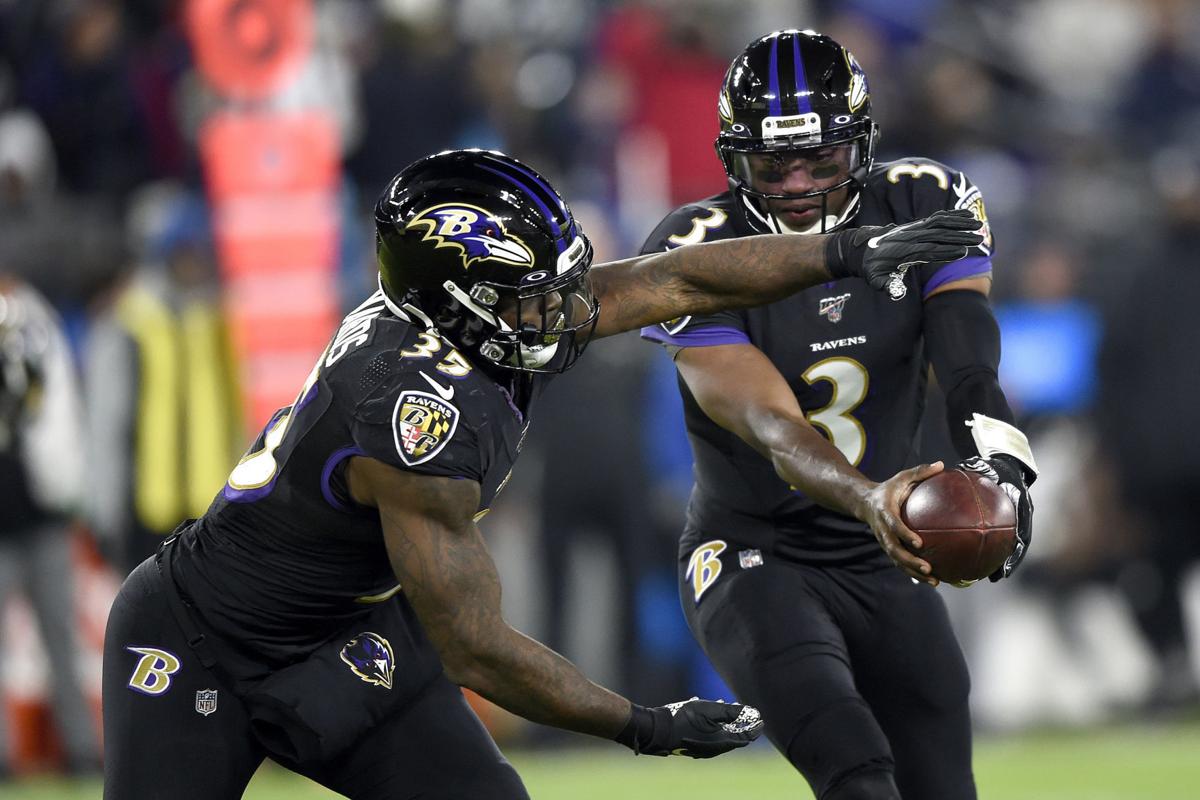 1) Who plays and who doesn't?
Ravens Head Coach John Harbaugh wasted little time in his Monday afternoon press conference before making this announcement:
These all appeared quite obvious to most of us and this decision to bench some key starters is the right call regardless of the end result. You know folks will be out with pitch forks if any starters who sit or receive limited snaps this week play a role in a slow start to the playoffs. Only the players know if not playing two consecutive weeks is at all detrimental to performing well in the divisional round, but the Ravens are not taking any risks with their MVP candidate and several veterans.
It will be three full weeks between in-game snaps for Jackson when the Ravens take the field in the playoffs but the Ravens cannot afford to risk the league MVP going down. Robert Griffin III will get the start for the Ravens, his first regular season start since January 1, 2017, a 27-24 loss the Steelers.
As far as other inactives for Sunday's game here's how my final list would look:
QB Lamar Jackson
RB Mark Ingram
There are several other prominent Ravens starters that I would like to see dress but not play/play minimal snaps. That list is headlined by cornerbacks Marlon Humphrey and Jimmy Smith. If I were Harbs, I would do all I can to protect Matt Judon, Andrews, Marquise Brown, and Chuck Clark. Who would have thought Clark would be on that list at the start of the year. The third year pro has been a steadying force in leading the NFL's fifth best defense.
You can't bench everyone unfortunately and the single most important thing Sunday is getting out of the game healthy. Hopefully Harbaugh and company are able to protect all of their starters to some degree.
2) How does RG3 look?
Many folks believe that RG3 is one of the better NFL backup quarterbacks. He's going to get an opportunity to show his stuff to the rest of the league against a Steelers defense that ranks fourth in the NFL in yards allowed and second in sacks with 51. Griffin is thankful for the opportunity:
With a depleted offensive line and several skill position players likely missing the game, it will be an uphill climb for Griffin to produce a solid performance. But if he is able to put together a serviceable showing against a Steelers team looking for a win to keep their playoff hopes alive, his prospects for 2020 could change.
There are some teams that are desperate for a quality backup quarterback. Griffin is under contract next season at a manageable $2.5M cap hit. If he performs well Sunday, it's definitely possible that a team comes calling for the former Heisman Trophy-winning quarterback to start for their team in 2020.
Stranger things have happened under Eric DeCosta, and a strong performance on Sunday could give the Ravens General Manager an opportunity to acquire draft capital for Griffin this offseason.
3) Stay Healthy
Would it be fun to watch the Ravens play their starters that dress long enough to knock the Steelers out of the playoff race? Yes.
Would it be fun to extend the winning streak to a dozen games ahead of a bye week and the AFC Divisional round? Yes.
Would it be fun to sweep the Steelers for the first time since 2015 (shoutout Ryan Mallett)? Of course it would.
But the single most important thing about Sunday's contest is to stay healthy. Protect the majority of your starters and do all you can to get those that do dress as few reps as possible. This Ravens team is a runaway train right now and the only thing that might derail their run to Miami is a few key injuries.
Plus the Ravens are good enough to beat this Steelers team without their full allotment of players available or playing key roles. Tell me you can't imagine a breakout day from preseason hero Chris Moore? Gus Edwards and Justice Hill are still a solid one-two punch in the running game. Why not give a ton of reps to Hill to protect Edwards with Ingram's status in doubt.
As conservative as Harbaugh wants to be is fine with me. He has pushed all the right buttons so far this season and whatever decision he makes should be trusted and accepted by the fanbase. Though we all know it won't be.
Predictions
Jake McDonnell: Ravens 24 Steelers 16
Nolan McGraw: Ravens 20 Steelers 17
Ian Schultz: Steelers 20 Ravens 16
The Steelers are far more motivated to win this contest fighting for their playoff lives. The Ravens are plenty good enough to beat this version of the Steelers without all their horses and I expect a close game. In the end, the Steelers get the win but still miss the playoffs as Tennessee beats Houston. All's well that end's well.
Broadcast information:
Image Credit: Mark Brown / Getty Images